Managing Director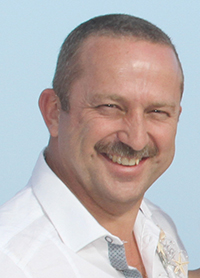 Riaan started his career in the communications environment in the early 80ís as a Telecommunicationís Technician in the public sector. He moved into the commercial computer field with the installation and design of access control systems. He obtained a programming certificate after which he moved into the project management arena after obtaining his Project Management Diploma in 1990.
Since then he has attended several seminars and courses keeping him abreast with new methods in project management principals. He has planned, managed and successfully implemented multi-million-rand projects for several corporate companies and has more than 11000 hours of diverse project management experience.
Before forming Projects Unlimited he spent 5 years as Technical Manager at a well known Networking company developing management and people skills.
Key Values
The fundamental principle of Projects Unlimited is to deliver projects on time, within budget and of the highest quality, benefiting both the customer and the supplier. Our goals and objectives will be met by vigorously demonstrating our professional management.
Our Philosophy
Our purpose of existence as a profitable company is to deliver a quality project management service, by marrying the supplier and the customer as a highly successful team and delivering a chosen project to the benefit of all parties and to build long term win-win relationships.